Love increases as judgement decreases
Everything is alive, aware and responsive
OK. If you were here on the Islands to see this magnificent sunset, I probably need go no further. But, as Stephen Stills sang so many years ago, "If you can't be with the one you love, love the one you're with."
It is the Aloha Spirit that distinguishes the Path Of The Adventurer. Aloha does not just mean Hello and Goodbye. It means love. My translation of the Hawaiian root words would say that Aloha is to share the breath of life and the spirit of happiness in this experience. So we say that to love is to be happy with.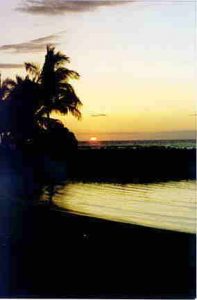 Oops! This really drives a nail into the folks that think that love has to hurt. Is it love that hurts, or the expectations of what you think the person should be or do that hurts? Perhaps it is the parameters that one puts on the definition of love that allows doubts, fears, and pains into its meaning. If love is unconditional, then personal rules and beliefs define those parameters that are behind the feelings. Jesus did not flinch when he was being betrayed, but told Judas to go and do what he must do. Tristane did not flinch when his love for Isolde meant certain death, but accepted it knowing he could only be happy if she were near. And what of the professional who marries both a career and a spouse? If we love the spouse but not the career, to what degree are we truly happy, and, if not happy, what can be done to harmonize the relationship?
Love increases as judgement decreases. Sometimes the simplest of rules are the hardest to follow. "Judge not and ye shall not be judged." Why? One very good reason is that criticism in any negative form weakens you. The world is founded on love, so naturally its opposite will alienate a person as well as restrict one's energy. This occurs when you criticize others as well as when you criticize yourself. Your body is connected with all things and can feel the criticism as it comes in and as it goes out. Try it yourself. Think of something or someone you are unhappy with and say out loud "I don't like that!" Now think of something that really pleases you and say out loud, "I like that!" Feel the difference? The idea here is to appreciate and praise more. You then, because of the third principle, will attract more love into your life and, because of this principle, you will maintain health and strength.
Everything is alive, aware and responsive. Yes, everything. Perhaps we don't notice the movement of a rock or hear the voices of trees and plants, but they have levels of awareness as do we humans. If we see everything as energy and connected, this corollary can "come to life." In my shamanic workshops I help people communicate with the elements, as they not only have much to tell us, but can help facilitate healing as well.
Many cultures find sacred the plants, animals, power spots, wind, and other elements of their respective areas. When you can work with Nature instead of seeing it as separate, a whole new awareness of life and love can unfold. Take a few moments today or tomorrow and talk with a tree, or listen to the wind, or notice any animals that appear during the day. You may be surprised at what you will learn.
---
Our 640-822 and 156-215.75 exams provide you 100% pass guarantee. You can get access to 70-461 and mcat with multiple prep resources of comptia network+.Huna for the Home Online Catalog
Unlock the key of your success by Leather4sure and selftestengine asvab practice test.By using our latest http://www.passguide.com/ and pass4sure ccna study material, you can easily pass realtests itil certification exam.