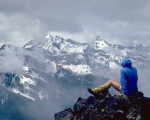 This site is a culmination of 15 years of experiences, mysteries, conscious and unconscious dreams. To get an understanding of my own personal journey and to get to know me better, take the time to read about the whole journey here. If you would just like to see how practicing this system changed my life, click the shorter version below.
1985
The story begins in 1985. I was living in a beautiful area just outside of the Shawnee National Forest in Southern Illinois. The city was Carbondale; a college town of about 30,000 almost 100 miles south of the nearest large city, St. Louis. I had been there since 1973, continuing on past my studies of music into the business world of the liquor industry. After 10 years in the field of sales, I felt that I had no meaningful direction in life. I closed my final business, a lounge I had bought the year before, was bouncing around from fruitless sales job to sales job, and feeling the respite of alcohol consumming my free hours.
I had always had a spiritual side of life, studying the Christian and Eastern religions, magick, and the mystical. Perhaps it was this underlying current of my being that created the dream. It really doesn't matter. What does matter is that I had the dream.
I remember hearing a voice as loud and clear as a friend's standing next to me say "Go to Chicago and work there for ten years. Make as much money as you can and your path will become clear." I awoke and went to work, which was selling advertising space for a police magazine, and promply found out that the office was closing. I was making about $100.00/ week, so it didn't upset me much, and besides, I now was on a mission. What did matter, however, was that a few of the other workers had mentioned that they were going to Chicago to work out of another branch office there! I jumped at the chance.
It was late September, 1986, and with about $100.00, a bankruptcy under my belt, a 1973 Plymouth "boat" car and a few clothes I started my journey. I landed in the western suburbs of this sprawling area as a lost, but relieved soul. I knew I had to be here and the "whys" would follow soon enough.
Unfortunately, I thought, the new job was worse than I could imagine. The office was corrupt, I couldn't make enough money for rent and had to live out of my car for a while. I finally found others in the same situation, and we shared a room on a weekly basis. It became a routine of working all day and drinking all night.
"This can't be the dream," I thought. "I have to find a real job. My own place. Focus on what you want!"
I immediately started saving every penny I could to get out of this miserable situation and checked the papers daily for job openings in the sales field. My clothes were out of style and worn, and my car was out of a Blues Brothers movie, but I had faith. Again my spiritual side took the reins. Prayer, focus, determination and positive expectation paid off. I found my own apartment in January and gainful employment in March of 1997.
It was a miserable winter, but spring seemed to bring new beginnings. The new job was an inside sales position with no travel and no out of pocket expenses. Just what I needed! And, on top of it, the people were incredibly friendly and almost family. I felt at home.
Spiritual Development
The next four years were spent in spiritual development. I found myself starting to save money, living in a nice neighborhood, affording to buy a VCR and having much time to read and study. It was 1987 and Joseph Campbell had just passed. He was a brilliant student of mythical and spiritual cultural roots, and I found his works both fascinating and enlightening. With my background of history study, his insights spurred me to delve deeper into the vast sea of diverse cultural thought. "What do I have to give humanity?" I asked.
Hinduism, Buddhism, Christianity, Judaism, Wicca, mysticism…What do I find in all of them that rings true for me? What system out there can put it all together? They all mean so much to their followers that they must each have tenets that ring true for all. "As ye harm none, do as ye will," say the Wiccans. "Do unto others as ye would have them do unto you," speaks Jesus. There is a bottom line of agape, as Campbell put it, where unconditional love for one's fellow man is the ideal. What then, can I do for others that will be a service? The next few years would be this search through system after system, learning and growing, seeking a spiritual home.
The Road To Self-Mastery
1991 found me happy, prosperous and inquisitive. I had followed my inner voice, taken the path into the unknown, and kept my spiritual eyes open. It was time to study with others. This vast metropolis, cold, cruel, laden with crime and cement must have a heart. Everything has spirit, according to the masters. Now I must open to it.
It's funny how one can see only what one chooses to see. For over four years I chose to not see anything but the coldness and dark side of Chicago: the crime, the political graft, the plight of the daily workers' routines. I knew it was time to expand, for, after all, if I was looking for healing modalities, certainly others must bbe as well.
Sure enough! As I opened my eyes to the possibilities, the possibilities came into view. They were there all along, with their own small publications strategically placed in spitiual center message areas and occasionally in friends' mailboxes. The two most significant centers that I found were the Oasis Center on the North Shore in Evanston, and the Theosophical Society in Wheaton, far west of the city. Since I was situated in the Elmhurst area, I was between them both.
It was not long before I was taking weekend workshops at Oasis, and visiting the Theosophical Society for its library and spiritual ambience.
1992- The Transformation
Now familiar with the grounds in Wheaton, I ventured over one hot July weekend to what is known as Theosofest, an annual gathering of the world's religious and spiritual groups for a weekend of sharing. There I was taken by a couple of ladies who had just returned from a week in Hawaii, studying the system of Huna. I had heard of the system from books by Max Long and others, and thought it to be a magical, religious and cultish teaching with enormous hiden power. I was wrong. These ladies had incredible enthusiasm, wore everyday dress, had not even one ankh symbol or any form of mystical jewelry, and spoke with great humor and love in their voices. They taught of seven spiritual principles, an art of manifesting dreams, and hidden energies that anyone could tap. Their delivery was so easy to understand and made such profound sense to me that I knew I would find out more.
They happened to have learned from one Serge Kahili King on the Island of Kauai, whom they called a shaman kahuna. I had read of the magical powers of kahuna and thought this to be a good time to find out more, so I wandered into the bookshop on the grounds and found a book called Urban Shaman by Dr. King. I had no idea how much my life would change from its contents.
With great enthusiasm I took it home and began reading, stopping every few pages to do the exercises and checking for effects. He was right. After over a month of study and practice, I was building confidence in my own creative abilities and understanding of the connectedness of all things. Soon I was divining with stones, talking with the wind, interpreting dreams, and dancing with the rain and snow. I did not want to let my secret out to anyone just yet, however; I needed more confidence and proof that this system was as magical as it seemed.
---
(short version)1993
I began using the system more and more at work, practicing the Aloha Spirit with employees and making good friends, building inner authority which turned into more sales (I became salesman of the year!) and finding the good in situations and people. I practiced manifesting the car of my dreams, which I found at less than half the market price; working with weather patterns to keep the cold and snow to a minimum in my area; healing from a distance by using live football games on TV as a training ground; and improving my confidence and ability at shooting pocket billiards (with a little help from zen principles as well). I was convinced. This stuff really works!
I had read all the books available and practiced every technique I could get my hands on, and could do no more with Hawaiian Huna other than to go there and practice it first hand. I realized at this point that if I could do this much just from reading books, there must be an infinity of things that I could do if I studied with this man in person.
1994-Hawaii
In July I took two weeks vacation and flew to Hawaii for a one week Healer's Course in Huna. I thought I knew enough to use the course as a sort of refresher and to bring to light all the material I had read. As I got off the plane, a wide smile covered my face that would be there for the duration of my stay. An unexplainable energy flowed through me that was wonderfully spiritual, calming, yet highly energizing at the same time. As I found out later, it was the energy of Kauai.
The course was taught by Dr. Serge King, and had an intensity that my conscious mind could not fathom. There was so much information given that I ran down to the nearest store at the lunch break and bought a hand held cassette recorder to document it all, and spent the rest of the week in an almost awe-struck state.
Between the teaching and the energy of the Island, I knew that I was to move here, and that this is what my ten-year stay in Chicago was leading me to. I went home a changed man, vowing to myself and to the island to move back permanently the next year. I had found my path.
The Proof
I now had the task of unequivocally proving to myself that this system really works for everything in my life. I had learned an ancient technique to bring new dreams into being, called haipule, and this is what I would use to manifest the move. It was used for nearly everything from the selling of my car and house to finding a new home for my cats.
First I used techniques for improving my relationships and soon became a very popular person. I then practiced communicating with the weather and saw uncanny results. There was one wintry evening that the prediction called for 6 inches of snow to fall by morning. I promptly went outside and used a technique I had learned to speak with the clouds and influence their patterns. When I woke up in the morning and went to work, there was a mere powdering of snow. As I got to work I found that many people were over an hour late because they had to drive through 6-8 inches of snow!
I also had a chance to use a rapid healing technique called kahi. I had contracted poison ivy while out in the woods and usually have to go to the hospital for cortizone and endure a two week period of extreme rash and itching. As I practiced the kahi, however, I noticed the rash disappear the same day!
My confidence level was so high by this time that I could have easily moved in December, but decided to stay until July, giving me the opportunity to learn Reiki, Joh Rei, reflexology and Core shamanism. Besides, what kind of work would I do when I got there? I began programming with the haipule technique to envision myself working with Aloha International and apprenticing with Serge King. I did it daily.
On I Go
May was coming and it was time for the final stages. I thought that I would put my house up for sale on May first in hopes of selling it by July, so I began a haipule session for attracting buyers. On May first, at 9am it went up for sale. By noon, I had an offer for more than the selling price I had asked! Next came the airfare. I checked the airlines and travel agents, who all agreed that it would cost about $800.00 R/T from Chicago to Hawaii. More haipule. I programmed for discount tickets and searched the Sunday papers for great deals. I needed 2 round trip tickets, because I was going to come back in August to teach a weekend workshop of this incredible system. Two Sundays later an ad appeared in the Chicago Tribune for tickets anywhere in the US. I called. The man had not only one R/T, but two to Hawaii! How much? Only $300 each! I was totally convinced that the Island was calling me.
Next was a new home for my cats. They were over 11 years old and I had gotten them four years earlier from a friend who was going to have them put to sleep because her kids had grown and she had two dogs already. They were too old for the long trip, and over the hill for new owners. Haipule! This one required alot of spiritual faith in the cat spirits and human nature. Lo and behold, I soon got a call from the same friend who was going to put them to sleep four years earlier. She wanted them back!
I was finished in Chicago and moved to Kauai in 1995. I took another Huna course for a week and at its conclusion, I was approached by Serge King. He said that he had heard that I was moving here and asked what I was going to do for work. I replied "I don't know, but I'm sure it will be fine." He then asked if I would like to work with him at Aloha International! I smirked inside myself and replied, "Sure, I'd like that."
Does Huna Work?
Even though I have written a book on the experiences I've had with Huna energy, I cannot prove a thing. There have been too many coincidences, however, for me to ignore its value. I do not believe that there are any accidents in this life; every phenomena is a reaction to a previous action. There have been so many favorable reactions to my practice of this amazing system that I am happy to be a living testimonial of its effectiveness. We truly do have an influence on our environments, health, happiness and indeed, all areas our lives. This philosophy helps build the confidence and faith to "move mountains" and gives one all the techniques necessary to begin living the new dream today.
---
Our tremendous offers for testking – sat exam – practice test and selftestengine prepare you well for the final passguide.com exam. Our pass4sure.com prepares you for great success of realtests.com exam.